It's that time of year again! As Black Friday approaches and Cyber Monday follows on December 2nd, we've put together a comprehensive gift list for that "Meghan' or 'Harry' in your life.
Ready, Set, Shop! 
Black Friday is almost here and we are excited to share some extra sparkle this season by way of Adina Reyter, the LA-based jewelry designer.
Adina Reyter is offering 20% off everything on her website, adinareyter.com – including the Solid Pave Teardrop Necklace and 3 Diamond Amigos Curve Posts, favorites of Meghan Markle – going on now thru Cyber Monday.
(click to view gallery below)
***************************************
Visit Birdies and get 20% OFF all Slides!
Don't forget, Birdies has brought back Meghan's 'Blackbird' Style, $140 (some sizes still available)! Get your pair now!
***************************************
Madewell is currently offering — 30% off with code: GIFTWELL
♦ Madewell Leather Crisscross Skinny Belt, $45 (few sizes left) NOW $31.50 
♦ The Jean Jacket in Pinter Wash, reg. $118, NOW $82.60
♦ The Canvas Transport Tote, reg. $68 – NOW $47.60
♦ Madewell x Biltmore® Panama Hat, reg. $58 (not included in sale) 
(click to view gallery below)
Ok, time for some #RepliMeghan / #MatchMeg style options!
If you're in the market for a great pair of jeans, Madewell has quite the selection to choose from. You'll find a number of fantastic #MatchMeg styles offered in plenty of sizes (23-37) including Petite, Regular, Tall and Taller.
What Meghan Wore suggests —
Madewell's 10″ High-Rise Skinny Jeans: Insuluxe Denim Edition jeans, reg. $135, NOW $94.50 – the most comfortable, cozy pair of jeans.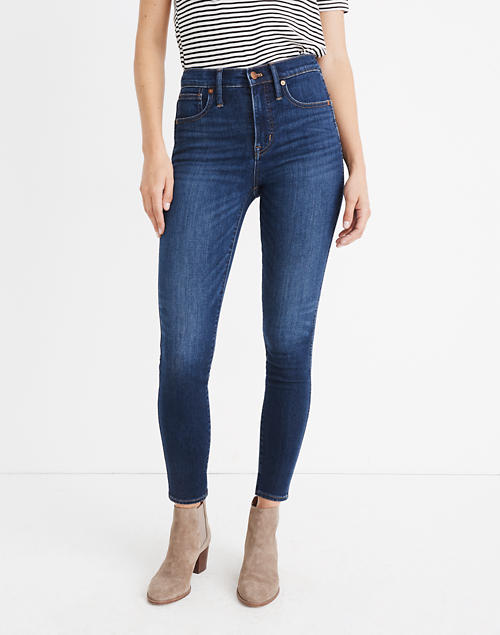 Why are these jeans so comfortable? Cashmere! That's right, Madewell has incorporated cashmere into the denim, hence the "lux" in Insuluxe!  They are 90% cotton/6% poly/3% cashmere/1% elastane.
If in search of black wash jeans, check out Madewell's 9″ Mid-Rise Skinny Jeans in Lunar Wash: TENCEL™ Denim Edition, $135, NOW $94.50.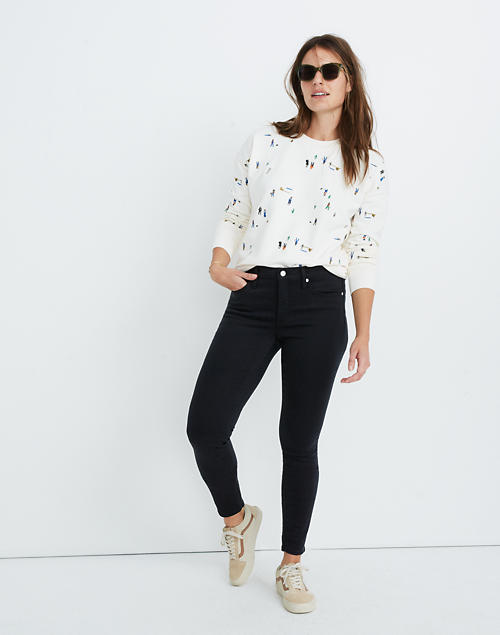 These black denim jeans offer superior comfort and a flattering fit without being too high or low-waisted.
Below, Meghan in some of her most iconic denim looks over the past two years! (Click to view gallery photos.)
#MatchMeg or #RepliMeg with these additional style options from Madewell:
J. CREW offers Reward Members – Sign-In for 50% OFF your Entire Purchase and an EXTRA 60% OFF Sale Styles – use CODE: SHOPFIRST – non-Reward Members receive 40% OFF with Code: WHYWAIT
(NOTE: J. Crew Reward Members can shop the sale ahead of the Black Friday Event!)
Meghan's denim dress worn to the US Open is included in the sale. The Denim shirt dress with tie belt, reg. $118, NOW $59 with 50% off.
The J. Crew navy vest she was seen wearing one Thanksgiving while cooking a turkey, as well as the same vest in black seen just before the wedding in 2018 is also on sale: Excursion vest in recycled poly with PrimaLoft® fill, navy, reg. $128, NOW $64 w/50% off.
Those J. Crew jeans she wore in New Zealand are still available! The 9″ high rise toothpick jean in charcoal wash, reg. $128. The jeans also come in Curvy toothpick jean in charcoal wash, reg. $128, NOW $64 w/50% off.
Check out the full denim collection from J. Crew to find more #MatchMeg styles!
There are a few sizes left of Meghan's Irish linen shirt worn several times, including the South African tour: Slim perfect shirt in Irish linen, sale $64.99, NOW $26 w/50% off!
You will also find the Sadie ankle boots in black suede on sale, $178, NOW $89 w/50% off, available in all sizes.
We suggest these two excellent #RepliMeg pieces for Meghan's iconic white poplin shirt look.
♦ The Classic-fit boy shirt in cotton poplin, $69.50, $34.75 with 50% off, a good buy. And the Curvy slim stretch perfect shirt, reg. $69.50 is $34.75 on sale at 50% off.
♦ Classic-fit boy shirt in end-on-end cotton in Peri (blue), reg. $69.50, also $34.75 with 50% off.
♦ The Classic-fit boy shirt in stripe, reg. $69.50 or Slim stretch perfect shirt in classic stripe, reg. $69.50; this is also $34.75 at 50% off.
All would work well as a #RepliMeg! (Click on the gallery to view photos.)

Other J Crew pieces:
♦ Grab a Perfect-fit turtleneck, $39.50 in black, $19.75 on sale, or the Tissue turtleneck in black, reg. $36.50, $18.25 on sale.
♦ Another of Meghan's iconic styles, the boatneck or bateau neckline. Try the J.Crew 365 stretch boatneck T-shirt in navy, reg. $36.50, $18.25 with 50% off, or the Slim perfect scoopneck T-shirt in navy or white, reg. $32.50, $16.25 with 50% off.
♦ Striped boatneck T-shirt, reg. $39.50, $19.75 on sale.
(Click to view gallery below.)
It's SWEATER WEATHER! Remember the turtleneck sweater Meghan wore in New Zealand? How about that beautiful burgundy one she wore recently for One Young World roundtables? Or the one she wore that time for a Marc Jacobs event in green! Try these, all from J. Crew!
J. Crew's Turtleneck sweater in supersoft yarn, black, reg. $95, $47.50 with 50% off.
Perfect for the holidays and fabulous color and style recently seen on Meghan, V-neck boyfriend sweater in everyday cashmere, reg. $138. (This one is not part of the sale.)
If you enjoy "Classic" Meghan looks, try the Pom-pom cable-knit sweater, reg. $98, $49 at 50% off.
These #MatchMeg dresses are stellar looks for a holiday party or special night out!
♦ Button-front A-line midi dress, reg. $138, $69 with the 50% discount.
♦ V-neck wide-leg velvet jumpsuit, reg. $148. (This one is not part of the sale.)
♦ Boatneck sheath dress in matelassé, $148, with 50% off it is $74.
♦ Long-sleeve knit midi dress in navy, reg. $118. (This one is not part of the sale.)
(click to view gallery)
Perhaps a holiday shirt or blouse would work better!
♦ Short-sleeve mockneck top in satin back crepe, reg. $89.50. (This piece is excluded from the promotional pricing.)
♦ Slim stretch perfect shirt in Black Watch tartan, reg. $79.50, $39.75 on sale.
You'll need some FAB shoes to go with that holiday look!
The Elsie suede pumps, regularly $248, are $124 on sale, and look very much like Meghan's favorite Manolo Blahnik BB pumps!
Keep yourself warm in a beautiful selection of coats with many similar styles to what Meghan has worn.
♦ Wrap coat in double-serge wool, $398, $199 with 50% off. 
♦ Double-breasted topcoat in wool cashmere, $398, also $199 on sale.
♦♦ Topcoat with contrast lapel in double-serge wool, $398, another item that is $199 with the discount.
♦ Perfect rain jacket, $128, $64 on sale.
(click to view gallery)
Be sure to check out all the hats and scarves included in the sale as well, there are lots of #RepliMeghan looks to choose from!
***************************************
Strathberry is also having a special Black Friday sale – up to 50% OFF!
(click gallery to view)
***************************************
Farfetch.com – BLACK FRIDAY – Thousands of Sale pieces, all with an extra 30% off | Code: FFX30
Find a lot of designer pieces Meghan has worn in the sale!
***************************************
Nordstrom has a preview of some items that will be included in their sale. Prices drop on Wednesday, 27 November. 
***************************************
Banana Republic is offering 50% OFF Regular priced items with CODE: BRCARD50 and an extra 10% OFF when you use your Banana Republic/Gap credit card CODE: BRCARD. Cardmembers also receive early access. 
********************************
Missoma is discounting everything by 25% with promo code BF25.
This includes Meghan's Interstellar ring, her Double Arrow ring and Open Heart Signet Ring. Meghan's Double Chain Bracelet (below left) and Gold Leaf Bracelet (below right) are also on sale. The Rainbow Moonstone Beaded Leaf bracelet (below center) is out of stock but you can add your name to a waitlist for the item. 
********************************
Dean Davidson is offering 30% OFF Sitewide now! No code needed.
The sale includes Meghan's Signature Midi Knockout Studs, reg. $145, NOW $101.50.
********************************
Shaun Leane is offering 20% OFF with code: ADORE20 – * Excluding New In styles.
The sale includes Meghan's Yellow Gold Vermeil Talon Earrings, reg. $291, NOW $232.80, Yellow Gold Vermeil Serpents Trace Slim Bracelet, reg. $791, NOW $99.40 and her Yellow Gold Vermeil Diamond Tusk Bangle, reg. $1288, NOW $1030.40.
********************************
If you're shopping for the man or men in your life – husband, boyfriend, son(s), friend, and so on. Here are some What Harry Wore styles or #RepliHarry pieces to explore.
Everlane, another brand both the Duke and Duchess favor, offers a few items as great gifts.
Also from Everlane, some pieces that Meghan has worn:
Get Harry's Adidas Gazelle sneakers in grey suede, $47.50 at Amazon.
Harry loves to wear his N. Peal pullover sweater. The style is their Carnaby Half Zip Cashmere Sweater, $430.
Another very nice men's gift is from Frank & Eileen. Harry wore their Luke brushed cotton in black, $198.
Harry has worn Patagonia a few times now. In February of this year, he sported their Patagonia Down Sweater Hoodie in black, $279.
Malabar Baby, who carries Archie's baby blanket seen at the polo match in July, is having 25% OFF – code: THANKYOU2018.


Be sure to stop back here over the long weekend for updates on other sales for more Meghan items!